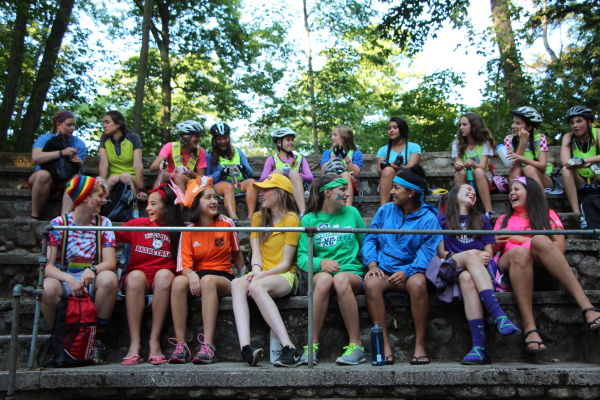 At the ring of the bells this morning, enthusiastic campers huddled in their tribes in the hollow to fill the morning air with tribal cheers and a frenzy of positive energy. After the a stretch of all four folds–physical, mental, social, and spiritual–including a sun salutation stretch and brief breathing meditation, everyone gathered for flag raising and reflection.
Breakfast offered energy for the busy day with pancakes, sausage, fruit, and more. Once the time in the Eating Lodge ended, Juniors, Pipers, and Seniors began swim checks, cabin photos, and a Fun, Safe Summer chat with Liz! Everyone got to jump in and cool off in Stony Lake during their swim checks to keep the morning refreshing. After a full morning of rotations, campers gathered together for lunch, macaroni and cheese and chicken tenders! After a quick run-through of the fire drill, campers headed to Rest Hour to recharge.
Assembly, Interest Groups, and Free Time filled the afternoon today. The Leaders in Training performed songs, skits, weather and sport updates, and trip explanations in Assembly before campers raced to their first Interest Groups of the summer. The Craft House was buzzing with Bracelet Bonanza and Crafthouse Medley. Water splashed during Paddle Sports, Pool Party, and Beach Time. The remaining groups could be found scattered around Miniwanca doing Zumba dancing, pottery, and forts-of-all-sorts.
During dinner, campers refueled with pizza and veggies in order to perform their cabin skits to their best ability at Opening Tribal Council. Once the central fire in Tribal Council was lit, all cabins and trip groups presented skits or songs or something in between to officially welcome everyone into camp for the summer. At the closing of council, campers met on the beach of Lake Michigan to listen to the Explorer 1 campers as they reflected on "preparation." The sun set behind the clouds, and we cannot wait until we see it again in the morning.