Good afternoon Four Trails families! Things are moving along in Graceland as we look toward week 2 of Session B. This is particularly exciting as Trailblazers begin their adventures on trail this week after a great week of in-camp activities and preparation for trail. Additionally, Adventurers is digging into the heart of their trip, Voyageur is in the midst of their reration as I write this, and Odyssey is making the turn toward the final days of their trip. Here's the breakdown:
Trailblazers have spent this past week balancing their time between in-camp activities and some time spent at Graceland. They've spent several interest group periods taking a tour of Graceland, discovering where they're going to place their hand prints on the wall at the end of the session, learning how to light stoves, learning how to set up tents, and taking on many of the other essential skills they'll utilize this week. This has been such a great week for practice and they capped it all off with canoeing shakedowns yesterday afternoon. Over the course of today and tomorrow, the Trailblazer boys will head out canoeing through the Hodenpyle Dam Pond and down Manistee River while the Trailblazer girls will hike the North Country Trail through the Manistee National Forest.
The Explorers are busy hiking the North Country Trail as well—though much farther north at Pictured Rocks National Lakeshore. We aren't able to get photos from them during their trip because the cell service is limited, but we've connect with both the boys and girls groups and they are enjoying their layover day today as they rest from the past several days of hiking. Over the past four days of hiking, they've seen some of the most beautiful coastline in America as they've hiked alongside Lake Superior. They've traversed craggy rocks and rock spires and they've spent a lot of the time on the beach swimming. It's quite a long drive to go up to the Upper Peninsula to pick them up, so we'll send out a driver to pick them up tomorrow and then we'll pick them up on the 29th. We can't wait to hear all about their adventures.
After several busy days preparing for their trips, our Adventurer campers are finally out on Michigan Bike Route 35, heading down the coast of west Michigan and on their way toward Traverse City. It will take them several days to get there, but along the way they will cycle along the coast, stopping for ice cream and for swimming in Lake Michigan. They'll also spend some time reflecting on their journey and what it means to be cycling toward Miniwanca solely on their own mental, physical, and spiritual power. They have great adventures ahead.
The Voyageur campers are enjoying the spoils and treats and reration. After a week and a half of backcountry living and kayaking, they had a wonderful dinner brought to them and prepared by our special guest star reration driver, Chris Farrar. Chris Farrar is a former full-time Four Trails coordinator at Miniwanca who was able to take several days this summer to drive out and spend some time with our Voyageurs, many of whom already know him. They've been able to send us photos and talk to us because they cell service at their reration location, so check out the SmugMug for more photos as they come in. This will likely be the last photos that we can get before we pick them up in the Parry Sound. Over the next two days, they will head back out into the wilds of the Georgian Bay to experience some more of the beauty of the natural world.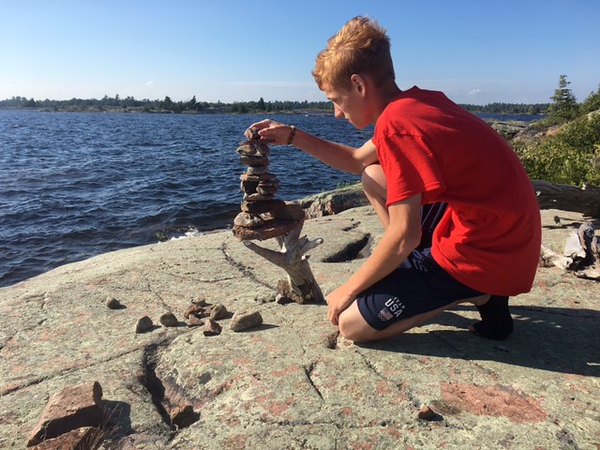 Odyssey has had their final mail drop and rest day and they are moving through the mountains of New York and Vermont in their final stretch to New Hampshire. This is the most physically demanding section of their trip, but we've heard from every group and they are all taking on the challenge beautifully. They are cycling some of the most beautiful roads and through some of the most beautiful mountains that New England has to offer. Over the course of their travels, they've truly been able to see the landscape change around them and they've been able to see the world in a way that few others have had the chance to. They have one final incredible location to see: Merrowvista! When they arrive on Thursday of this week, they will be greeted with a ride-in by all of Merrowvista. They'll sing Founder Hearts and then run down to Dan Hole Pond for a quick splash. I'll check back in with updates when they arrive, but they have some amazing activities scheduled for their time at MV.
A final update: for those of you that don't know, Graceland is on a field that borders Stony Creek. The area along the creek is home to several baby bunnies that come out to say hello and goodbye to the kids. I just thought I'd share a picture with you.
Happy trails!