Boys Camp had an amazing Thursday! Breakfast was delicious, and ended with the send off for the Adventurers. These rising 10th graders departed after breakfast for a 500 mile tour of West Michigan. They'll ride as far north as Traverse City before looping back to camp. We're sad to see them go, but excited to hear their tales!
From breakfast we headed into Interest Groups and Community Time. The Darers and Challengers took to the wilderness for Community Time. The Darers built shelters in the forest, and the Challengers learned about Miniwanca's dunes. The Seniors engaged in a discussion about the Leadership Compass, which helps them determine their own leadership style.
Tribal Games was devoted to preparing for Wanca-Kart, our biggest Night's Doings for the week. Each tribe was given a supply of cardboard, markers, rope, and duct to construct 2 human powered carts. It was amazing to watch all of the creativity and teamwork that went into a very short amount of time!
After lunch and Rest hour we all gathered in Council Circle for Assembly. Everyone was very excited for the return of Wanca Cops, our ongoing police procedural skit starring officers Atwater and Frohlichstein.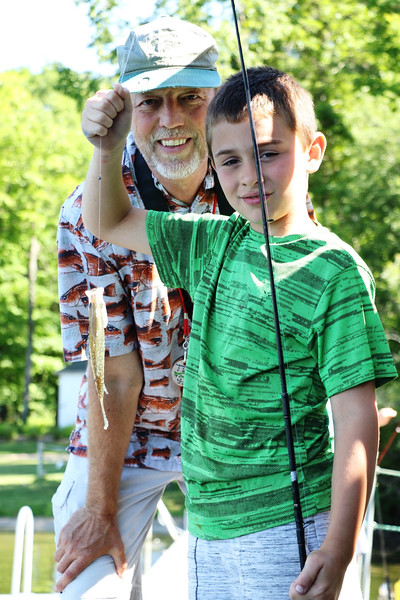 Interest Groups 3 and 4 finished their week yesterday, and everyone was in a rush to get everything accomplished! There were skipper tests, dragons to slay, and goals to score. The fishing IG was lucky to have a volunteer, Jim Craig, helping them all week. He's a former camper, who now volunteers a few weeks every summer to help with our fishing program. What a great friend for our campers to have!
During Free Time most of Boys Camp seemed to be busy hunting for the Paddle, a small canoe paddle that is hidden around camp that can be found for a lot of Tribal points. Here's the current set of clues they have to work with:
Near water
With the trees
It's a name
After dinner came the event that defines the first week of camp, Wanca-Kart! Modeled after the videogame Mario-kart, the game sees groups of campers racing around a painted track while avoiding banana peels and avalanches, tagging the star and blue shell. We had five races of three laps each, which left campers tired and ready for bed.
We raced a small rainstorm back to the cabins, and campers got to enjoy the rain on their metal roofs. A truly sublime experience for all involved.