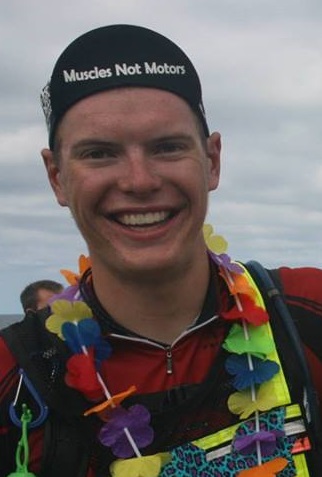 We  are saddened to share that longtime camper Ryan Thomas died unexpectedly on April 16, 2018. Ryan spent many summers growing up at Miniwanca, following the tradition of his Great Uncle, Grandmother, Aunt, Uncle, Mom, and Brothers. Ryan enthusiastically embraced the adventures of Four Trails, taking on backpacking, canoeing, long distance bicycling treks, and kayaking on the Great Lakes. He completed the Odyssey cycling trip from Merrowvista in 2013 and was deeply connected to his camp friends.
Ryan's mom, Bets Wissman Thomas, writes, "Some of the most significant experiences that helped shape Ryan in his youth were many summers spent at Camp Miniwanca, on the shore of Lake Michigan, and epic adventures radiating from this special place."
Ryan focused on helping others and making the world a better place. His warmth, humor and genuine caring made him a living example of the AYF's goal to: "Aspire Nobly, Adventure Daringly, Serve Humbly." Ryan will be greatly missed by our entire camp community.
There will be a service and celebration of Ryan's life:
Saturday, April 21st, 2018 at 11 am
Vienna Baptist Church
541 Marshall Road, SW
Vienna, VA 22180