It's been a big day for Four Trails. Our Voyageur campers arrive today and almost all of our groups are out on trail! Here's what's been happening for the past couple of days:
Trailblazers have begun their week of on-trail time. Trailblazer boys are currently on their 3-day canoeing trip down the Manistee River. They will complete a portage today where they'll carry all of their gear and canoes on a trail past a dam. They'll hop back on the river after their portage and canoe for several more miles before setting up camp for one more night on the river. Our Trailblazer Girls 1 group has been hiking while the boys have been canoeing. Tonight they'll be staying on the North Country Trail at a beautiful backcountry campsite next to a calm, cool creek. Our Trailblazer Girls 2 group departs today for their hike along the North Country Trail and will be staying alongside the majestic White River. Tomorrow they'll cross the river and hike for five miles on the trail. Here are the Trailblazer girls in action, cooking breakfast this morning and the boys preparing to canoe for the day!
Explorers are well on their way to incredible adventures—including the Explorer boys who will complete their 5-day cycling tour of West Michigan tomorrow! They've cycled north toward Ludington and will come back through Pentwater tomorrow until they reach camp and take some well deserved rest time in camp. The Explorer girls group had a wonderful time yesterday canoeing down the Manistee River for about 15 miles before finding a nice grassy campsite to stop and camp for the night. They're tired but happy to have found such a beautiful spot to make camp for the night. The Explorer girls group doesn't have much cell service for sending us photos, but here's a photo from the Explorer boys group.
Adventurers are well on their way south on Bike Route 35. After some hot days, they're happy to be resting soon for a day near Traverse City. They just missed the cherry festival by a day but we're hoping there are still some cherries left over! In the next couple of days they'll continue headed south toward Sleeping Bear Dunes National Lakeshore.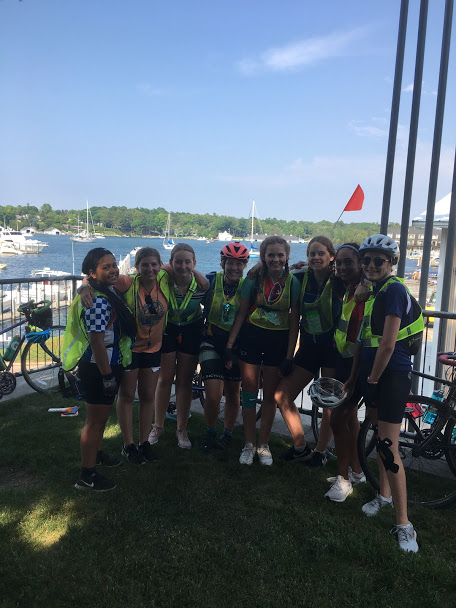 Voyageurs arrived today and are settling in nicely to camp life. They're got a week in camp to prepare for their trip. Tomorrow they'll start getting out on Stony Lake to begin their kayak training and by the end of the week they'll head out on an overnight shakedown to our small campsite on Lake Michigan (called the Well Site). It's going to be a busy week for them!
Our Odyssey campers are well on their way across Michigan. By this time next week they'll be in Canada. Time moves so fast! Their first mail drop is in Marine City on July 10, so if you intend to send mail please do so quickly so that it arrives in time for them to receive it. The address for mail should look like this:
Participant Name – Camp Miniwanca
General Delivery – Please Hold for Pick-Up
460 S Water St
Marine City, MI 48039
Once they cross over into Canada they'll be cycling through beautiful (mostly) flat farmland in Toronto on their way to Niagara Falls.