On Sunday, April 30th, old and new friends of the AYF community gathered for dinner to kick off the 16th Annual Donald Danforth Jr. Memorial Dinner Auction & Golf Tournament. As a part of the evening program, we took a moment to present three awards to members of the Founder Family in recognition of their contributions to advancing the AYF mission.
Visionary Award – Meg Campbell, Codman Academy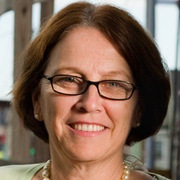 The Visionary Award is given annually to an individual whose shared work represents the American Youth Foundation's mission. The awardee represents the understanding that while the AYF's mission is grounded in the founder's legacy at camps Miniwanca and Merrowvista, the true test of best self happens outside of camp in the world they encounter every day. The AYF recognizes the recipient of the 2017 Visionary Award, Meg Campbell, as a true champion of youth.
Meg was a second generation "Miniwanca Girl", whose mother raised Meg and her siblings on the AYF motto "My own self, at my very best, all the time." She started as a Piper camper and continued through to serve as a cabin leader. Wanting to have a lasting impact on youth, much like AYF had on her, Meg pursued a bold vision and founded Codman Academy Charter Public School in Boston, MA. Under her leadership and guidance, Codman Academy began a partnership with AYF in 2002. The entire school has traveled to Merrowvista every fall since for leadership training, and the motto Meg grew up with serves as a guide for all Codman students. In addition, Codman students have attended the National Leadership Conference at Miniwanca and served as AYF staff.
It is impossible to measure the positive lasting results of Meg's vision in action; however, it is a fact that AYF's work with youth has been powerfully shaped and grown as a result of the partnership and collaboration with Meg Campbell. She, acting at her best, has moved the organization several steps forward in the direction of our best, and thousands of youth are the beneficiaries.
Thank you, Meg Campbell, for your vision and leadership!
---
Enkindled Spirit Award – Shawn Swartzentruber, Volunteer
The AYF recognizes Shawn Swarzentruber with the 2017 Enkindled Spirit Award. This award is given annually to an individual who has given their best self back to the American Youth Foundation. It recognizes someone who has shown that the AYF motto is not just words, but a way of life in their unwavering support for our organization.
Shawn received the AYF's I Dare You Award, which helped him attend the Leadership Conference at Miniwanca. Since then, his roles have been extensive and ever impactful. In his 33 years of experience he has served many AYF programs in leadership roles and as a volunteer. Signs of Shawn's handy work are all around camp. From the steps up to D-Bay to the leveled Girls Camp cabins, from the remodeled boathouse to the countless benches, bunk beds and signs, Shawn has a genuine, deep care for the AYF mission and it shows. Through his selfless volunteer efforts, as AYF staff have put it, "Shawn is the person who gets everything done before you even knew it needed to happen."
Shawn is an example of one who brings William H. Danforth's challenge from I Dare You into action – to "aspire nobly, adventure daringly, and serve humbly." The AYF is better due to Shawn's involvement.
Shawn Swarzentruber, thank for your service and steadfast commitment to AYF!
---
Community Empowerment Award – Energizer Holdings, Inc.
The American Youth Foundation recognizes Energizer Holdings, Inc. with the 2017 Community Empowerment Award. This award is given annually to an organization whose humble service to the American Youth Foundation has helped fuel our mission.
Energizer's support of youth development and partnership with AYF over the years has included sponsorship of youth to attend both the ILC and what is now the National Leadership Conference (NLC), summer camp program support, help in furthering partnerships the AYF has had with other organizations and schools, in-kind donations to both Camp Miniwanca and Camp Merrowvista, and through its employee matching gift program.
Energizer has further empowered the AYF to advance our reach in positively impacting youth through programming.  It is with their collaboration and support that the American Youth Foundation continues a 90-plus year tradition of introducing thousands of youth from across the country, and across the world, to the timeless AYF mission.
Thank you for your many years of support, Energizer Holdings!
Thank you to all the members of the AYF community that support our work with youth. The hillsides and sand dunes of Merrowvista and Miniwanca have already been filled with the energy and positive presence of young people this spring. And in a few weeks our summer season will be in full swing, beginning with the NLC and then camps. Your support makes our work possible!