Miniwanca
Seekers
Girls Camp
Campers entering grades 6 to 8
Miniwanca days are intentionally designed to encourage Seekers (entering grades 6 to 8) to discover their best, live a balanced life, and contribute to a positive community. Campers live in cabin group with a dozen peers and a dedicated staff leader, creating a dynamic and supportive environment. Cabin groups serve as their family at camp, eating family-style meals and participating in daily community activities and games together.
A typical day at Miniwanca features plenty of community time, free time, and the opportunity for campers choose from a variety of Interest Groups to create personalized daily experience. Each evening our community gathers for a high-energy, all-camp activity, before bringing the day to a quiet close during Evening Reflection while the sun sets over Lake Michigan.
As older, more independent campers, Seekers venture into Miniwanca's vast acreage to experience an overnight camping adventure where they are introduced to campcraft skills and outdoor cooking. They engage in more advanced activities and deepen their understanding of what "my own self" truly means.
All campers leave Miniwanca with lasting memories, new skills, friends, and newly gained confidence in themselves and their ability to make a positive difference in the world.
Summer 2023 Dates and Registration
Summer 2023 registration is a first-come, first-served model, and waitlists will be created when programs fill. Explore all Seeker program offerings below and sign up for our email newsletter for summer 2023.
If you have any questions, please don't hesitate to email miniwancacamps@ayf.com. Thank you for your continued support!
2024 Dates and Rates
Seekers entering grades 6 to 8
Session A
One week: June 30 to July 6
Rate: $1,725
Two weeks: July 7 to July 19
Rate: $3,400
Three weeks: June 30 to July 19
Rate: $4,875
---
Session B
One week: July 21 to July 28
Rate: $1,725
Two weeks: July 28 to Aug. 9
Rate: $3,400
Three weeks: July 21 to Aug. 9
Rate: $4,875
Scholarship and Financial Aid
The AYF is committed to making summer camp accessible to all youth. As a nonprofit foundation fueled by generous donations from our alumni and families, the AYF offsets the price of every program for every participant. AYF also offers need-based financial aid and sibling discounts.
A Typical Day
Most weeks at Miniwanca consist of four or five typical days and two or three special days. We know consistency is important for campers, so we ground the week in regular schedules and activities, while making time for atypical celebrations and exciting activities.
Special days may include Opening and Closing Days, the Fourth of July, and other camp-specific holidays like Founder's Day and Nostos.
Morning
7:50 a.m.: Polar Bear Call
8:00 a.m.: Rising Bell
8:40 a.m.: Morning Stretch
9:00 a.m. Breakfast
9:45 a.m. Camper Free Time
10:30 a.m. Community Time
11:30 a.m. Interest Group 1
Afternoon
12:45 p.m. Lunch
1:30 p.m. Rest Hour
2:35 p.m. Assembly/Quad Meetings
3:00 p.m. Passing and Prep Time
3:15 p.m. Interest Group 2
4:15 p.m. Snack Time
4:30 p.m. Interest Group 3
5:15 p.m. Camper Free Time
Night
6:15 p.m. Dinner
7:30 p.m. Night's Doings
9:00 p.m. Evening Reflection
9:30 p.m. Bed Time Prep
10:00 p.m. Lights Out for Younger Campers
11:00 p.m. Lights Out for Older Campers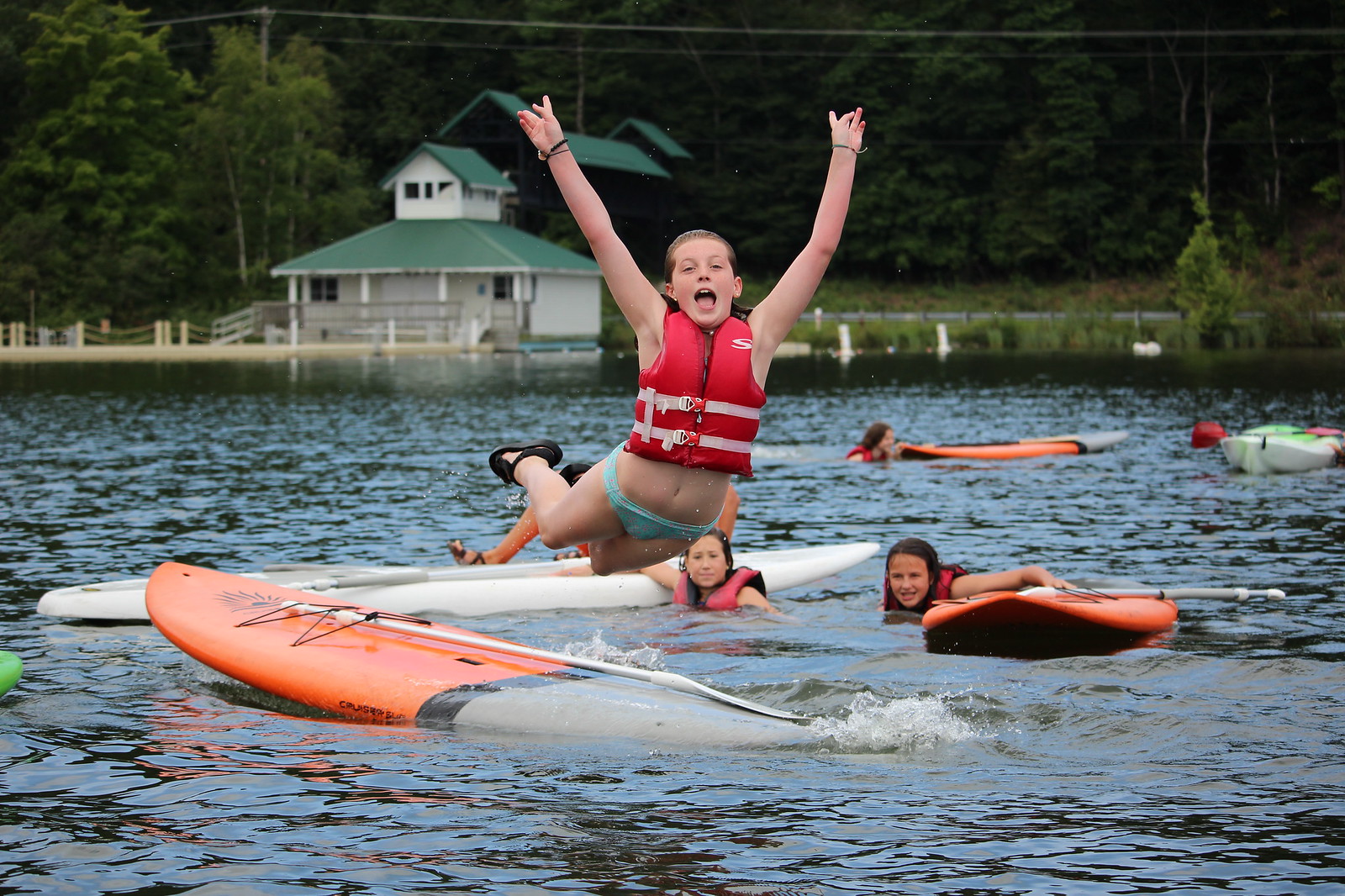 Interest Groups
What are they and how do they work?
Each week, campers sign up for three different Interest Groups, activities designed to have fun, learn a new skill, and practice being their best selves. Campers also have the opportunities to make new connections with campers of all ages.
Typical Interest Groups will include:
• Sailing
• Pool Party/Swim Games
• Paddle sports (kayaking, canoeing, stand-up paddleboarding)
• Lake Michigan beach time
• Sports (soccer, dodgeball, Ultimate Frisbee, volleyball, and more)
• Archery
• Woodshop
• High ropes course and rock climbing
• Pottery
• Yoga
• Theater/improv
• Arts and crafts (knitting, friendship bracelets, copper enameling, print making, and more)
If campers have a new idea for an Interest Group, they're encouraged to share their thoughts and help create special Interest Groups for the following week! Previous camper-created Interest Groups include Creative Writing, Harry Potter Fun, and Hike and Dip.
"My daughter was able to reboot herself while away at camp. The craziness and anxiety of life as a junior high student is challenging. Going to Camp Miniwanca gives her time to recharge and reflect on who she is and what matters...and she has fun! She is looking forward to next summer already!"
– Miniwanca Camper Parent