Odyssey campers will complete their Four Trails journey with a three-week long hiking experience that will inspire powerful moments of awe and discovery – from a day of hiking in the rain to enjoying the serenity from the top of a mountain peak.
Odyssey groups spend Opening Day preparing for their adventure and gaining confidence in their gear before leaving for the trail. Groups venture through boulder fields, old growth forests, and alpine terrain. Campers carry all the individual and group gear they will need on a day-to-day basis, with a food and equipment resupply at the halfway point of the journey.
Upon their return to Merrowvista, they will share their insight with the camp community and receive their well-earned vests.
---
2022 Four Trails Details
2022 Four Trails will be different than previous years due to the ongoing pandemic. Our camp community's health and safety are our top priority, and all Four Trails plans are subject to change due to circumstances beyond our control.
We are confident these experiences will provide all the challenge, community, personal growth, and fun your camper expects on a Four Trails trip, even if the routes take us new places.
Odyssey participants will embark on the capstone of their Four Trails experience, a journey of self-discovery and personal reflection amid the beauty of the Appalachian Trail. They will:
Complete a 14-day hike along the Appalachian Trail in the 100-Mile Wilderness, ideally including a hike to the summit of Mt. Katahdin.
Establish independence in outcamping skills, including cooking with camp stoves, backcountry camping, and water purification.
Celebrate their achievement with the traditional hike-in at Merrowvista.
Receive their well-earned vests to mark this important milestone in their lives.
Upon arrival to camp, Merrowvista staff will conduct an extensive pre-trip evaluation to make sure all participants are physically and mentally prepared for trail life. A camper's trip plans may be altered after individual assessment.
To best prepare for the physical demands of their Four Trails experience, Merrowvista will provide a pre-trip training plan with the 2022 Family Resources in the spring. We strongly encourage your camper to review and adhere to this plan to ensure the safest, most enjoyable Four Trails trip.
---
Summer 2022 registration is now open. Campers are registered on a first-come, first-serve basis (pending medical review), and waitlists will be created when programs fill.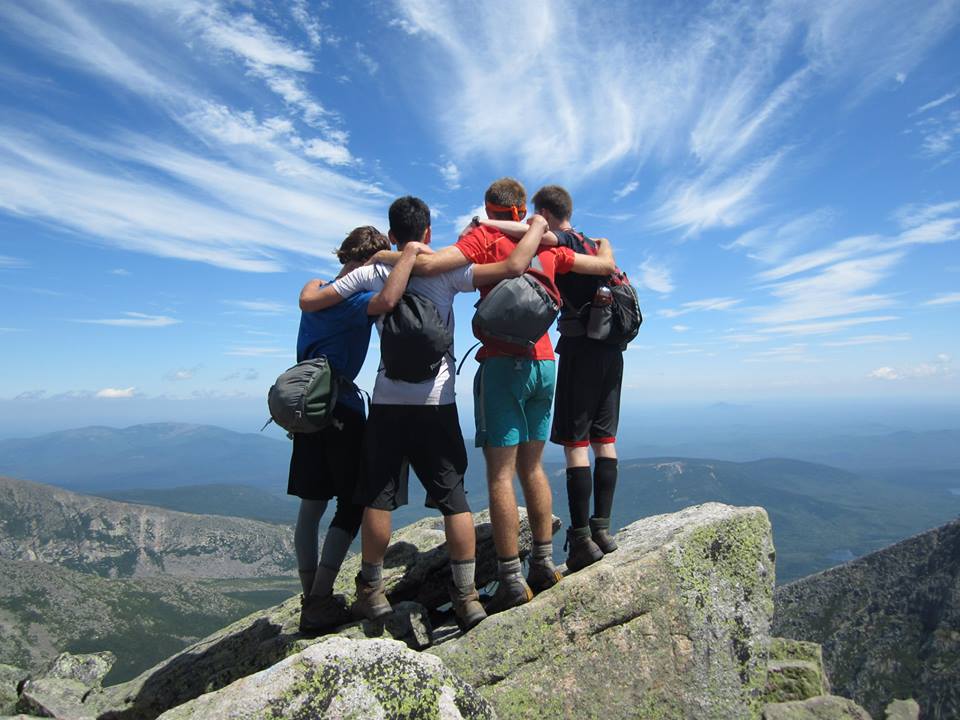 2022 Dates & Tuition
Voyageur
Session B (Three Weeks)
Dates: July 24 to Aug. 12
Rate: $5,000
SCHOLARSHIP AND FINANCIAL AID
The AYF is committed to making summer camp accessible to all youth. As a nonprofit foundation fueled by generous donations from our alumni and families, the AYF offsets the price of every program for every participant. AYF also offers generous full scholarships and need-based financial aid.
"Every summer my son returns having made a palpable leap in maturity. Sometimes the progress he's made comes out in a conversation where he expresses a belief system that has no doubt been influenced by the wonderful values reinforced at camp. We use 'best self' as shorthand for asking if behavior is in line with values, and when I ask, 'Are you being your best self right now?' That usually sparks some reflection."
– Merrowvista Camper Parent